Who's walking who?
Does your pup pull you on walks? Do you have a lunger, barker or jumper on leash? Are your walks around your neighborhood becoming a nightmare?
We can help!
Let's learn behaviors that build Attention on you and make time with your dog an enjoyable family experience.
Good Dog Paws offers group classes to help dog owners grow alongside their dogs and others in similar situations. Fur parents will be able to interact with each other along with their precious pups. It's a convenient way to build strong bonds and an excellent starting point for any new dog owner!
Our Group Classes start with AKC's S.T.A.R. Puppy program.
S.T.A.R. = Socialization. Training. Activity. Responsibility. This 6-week course will help you resolve puppy issues, develop manners, and for your pup to become a more enjoyable family member. Better manners, less stress.

The next level class is AKC's Intro to Canine Good Citizen (CGC) behaviors. This 6-week course can help your dog develop acceptable social skills, non-reactive behaviors around others and get used to an environment with a lot of distractions. This course will help them learn better manners and to obey commands that will be applicable in real-world settings! And when you are ready you can test for AKC's Canine Good Citizen certificate of Good Behavior.

All dogs are welcome to participate in these age appropriate classes, mixed, rescue, purebred. Our consultation meetings are designed to help us determine the best training format for your pup or dog.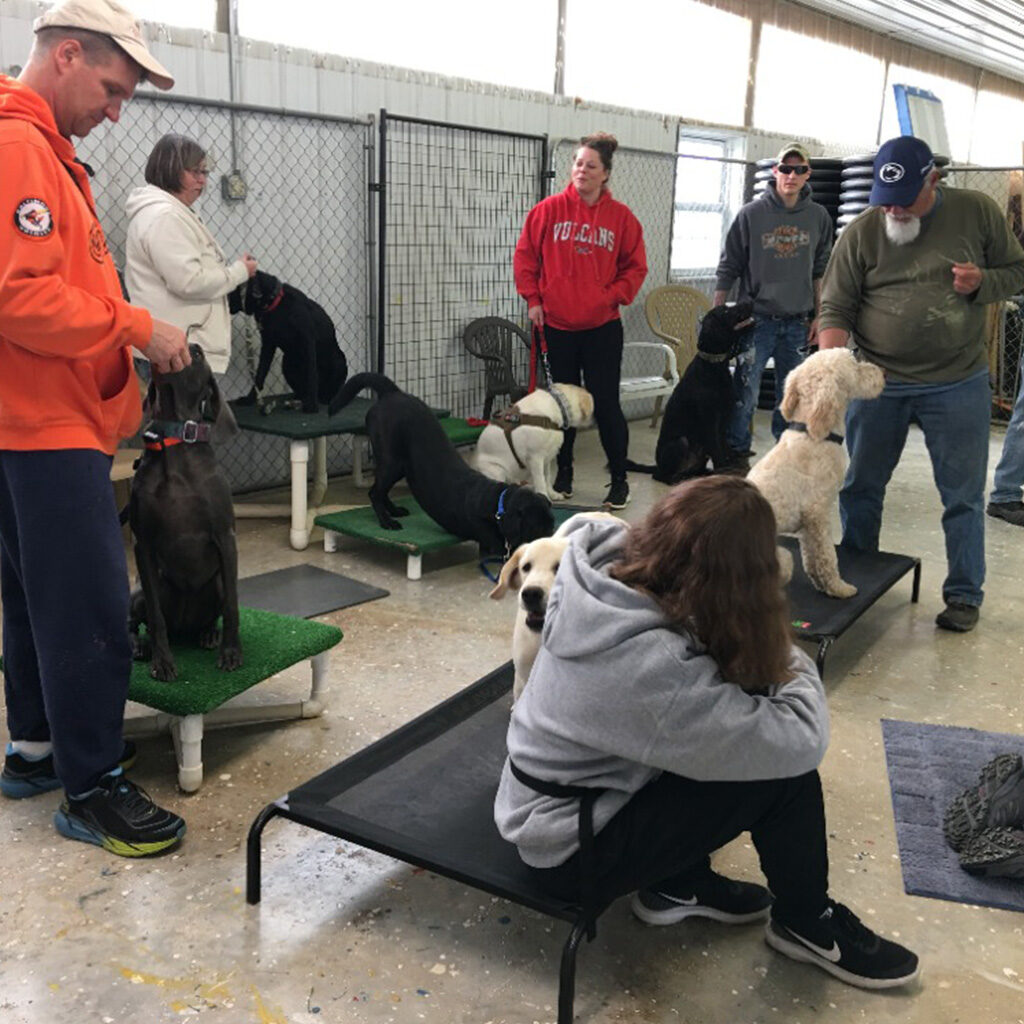 Socialization for You and Your Dog
Group Classes present an excellent opportunity for your dog to be trained and learn around other dogs. Socialization in class means learning to be Non-Reactive to other dogs around you. Non-Reactive skills include no barking, lunging, whining or pulling to get to the other dogs. Dogs learn to Stop and Sit while owners visit.
With our trainers and staff on-site, any bad behavior or negative response can be identified and addressed right away. Your dog might be used as an example of what to do during specific situations, as well, and the same goes for others. This helps your pup learn the difference between acceptable and unacceptable behavior when with other dogs.
Working in Distracting Environments
Distractions are everywhere and your dog will need to learn to ignore them in favor of paying attention to you and listening to your commands. Group classes are perfect for that. With so many dogs barking, yapping, and playing around, your dog's training results will be much more resilient.
Our staff has the expertise and the experience to modify your dog's behavior so that it will be able to ignore distractions with ease. The best part is that in group classes, there will be other people there too. This means that there will be other owners issuing commands, which will cause even more distractions. This will work in your favor since your dog will then learn to listen to only your voice and cues once training is done.
During Group Classes, you will see first-hand how trainers handle dogs in modifying their behavior. By paying attention to how bad manners are corrected and how dogs are taught to behave properly during social interactions, it becomes much easier to understand the process.
This is extremely important to maintaining your dog's progress once the training is done. As your dog learns during Group Classes, so do you. This helps both of you grow.
Excellent Bonding Experience
By attending our Group Classes, you spend more time with your dog, which helps you both get closer. Training then helps make communicating with each other much easier, helping you understand your pup much better
We will be with you every step of the way and teach you how to read your dog's body language and behavior. By having a better understanding of what your dog wants and why it acts the way it does, your bond will become stronger.
Establishing Your Authority
Last but note least, your participation in our Group Classes with your dog establishes you as the one to listen to instead of others. You will be building Attention Skills. You will become the giver of all good things and your relationship will become more valuable than other motivators.
Yes, you will be receiving plenty of support, guidance, and information from our staff and trainers. However, you will be the one who will be issuing commands and teaching your dog good manners, for the most part.